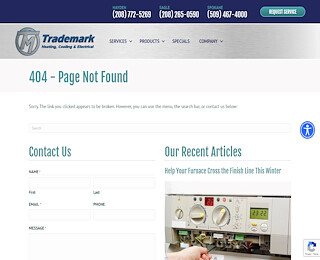 5 Tips For Reducing Your Annual Spokane Heating Bills
We know that heating bills in every home can be annoyingly high especially when it's winter. People who rely on fixed income need to go the extra mile to make adjustments in their homes in a bid to cut the heating cost. Most people make up for the cost of heating in winter by cutting down on other luxuries in the house. The good news is that you don't need to sacrifice your luxuries just because you want to meet up with your winter heating bills. There are little adjustments you can make in your home to make it consume less energy during the winter and cut down that Spokane heating bill.
Tips For Reducing Your Annual Spokane Heating Bills
1) Reduce Your Thermostat
This might sound like a death trap, but it isn't. We've given this tip to many of our clients who have benefited from it greatly. Lowering your thermostat isn't going to make you freeze to death. In fact, you'll not even notice the difference in the home. However, you will notice a 5-10 percent reduction in heating bills simply by reducing your thermostat. If you can't turn it down when you're indoors, turn it down whenever you want to go out.
2) Wear Socks
Cold feet can quickly lead to a cold body. Keeping your feet warm is a good way to generate heat for the rest of your body. Wearing socks around your home during winter will help you keep warm. If the socks aren't enough, wear a sweater and always cover up with a blanket. Increasing the heat should be last resort.
3) Make Use Of Heat From Different Sources
You don't need to depend on the thermostat for heat all the time. You can look for alternative sources of heat. For example, when you're cooking, you can open the kitchen doors and let the heat from the kitchen circulate the house. When you're in the shower, open the bathroom door to allow warm air enter into other parts of the house. Make sure your ventilation is turned off, so you don't lose the warm air quickly. These are alternative sources of heat you can use in your home.
4) Trap The Heat In
One way to reduce the cost of heating is to trap heat in by keeping your doors and windows shut anytime the heat is on. This will help keep the house warm. If you own a fireplace, make sure that the glass doors are intact and the flue is closed to maximize heat circulation. When you're not using the kitchen or bathroom ventilation fans, turn them off to reduce heat escape.
5) Call Us For A Maintenance Check
Properly maintaining your home will help reduce the Spokane heating cost. We can run a check on your heating unit to make sure everything is fine. If there is any part of the unit that needs adjustments, our professionals will point it out to you and help you maximize heat production and circulation.
These are the top five ways to reduce Spokane heating cost in your home and save money, especially during winter. On your own, you can clean the filters in the heating unit from time to time.
RDI Heating & Cooling
(208) 762-9857
9443 N. Government Way Hayden, ID 83835 United States
View Larger Map
We welcome your comments!